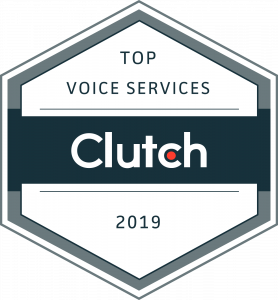 VoiceNation is an Atlanta-based telecommunications industry leader providing 24/7 live answering and virtual receptionist services for small businesses and entrepreneurs. Our exceptional customer service has received countless awards for our low hold times, exemplary accuracy and overall call quality. We are adding one more to the list as some of the top voice services in Atlanta for 2019 by Clutch.
Clutch, a B2B market research firm based in Washington D.C., uses an independent and holistic review process to rate and review companies to provide you with reliable data and client feedback, so that you can make an informed choice addressing your next business challenge.
We are further pleased that Clutch's sister website – The Manifest – lists as a leading call center services provider. The Manifest is a business news and how-to site that provides you with business reviews alongside actionable advice from industry experts to help you increase your business acumen and grow your firm. We understand the telecommunications industry. Customer service is the name of the game for us – we serve your customers as if they were ours. Clutch's recognition serves as a tribute to our dedication and we are honored to receive this because it helps our clients better understand the value we bring to their business. We want our clients to be well informed so that they can make the best decision possible. Visit Visual Objects, Clutch's new project that features our company amongst the best B2B profiles and our creative portfolio all in one place.
Thank you again to all of our clients for helping us achieve this success on Clutch. We can't wait to continue our partnerships in the future!
Live Answering Service
Virtual Receptionist by Industry