It goes without saying that most of us have a dream job in our head that we'd love to be working. Some of us might very well already be living the dream, but if not, the next best thing is a job you enjoy that lets you live life to the fullest.
While traditional jobs in retail and public services remain as popular as ever in the US and Europe, it's the digital sector that's consistently labelled as one of the best industries to work in.
But that got us wondering, what are the most popular digital jobs in the US and Europe?
To find out, we set our minds to some hefty desk research, using the job-hunting site Adzuna to see what the most advertised digital industry jobs are in each US state and across various European countries.
The most popular digital jobs in the US by state
To start off with, two of the most popular digital jobs in the US proved to be in IT and finance.
For those living in Alaska, Colorado, Iowa, Kentucky, Michigan, New Hampshire, Ohio, Pennsylvania, Vermont, and West Virginia, IT is a firm favorite, but finance is preferred in the states of Wyoming, Washington D.C, Utah, Texas, Rhode Island, Nevada, Illinois, Hawaii, Florida, Connecticut, and Arizona.
But what about some truly digitally-focused roles?
Well, the people of Alabama, Maine, and Washington really get behind the idea of being a UX designer, while the people of Delaware, Maryland, and Oklahoma aspire to be web developers.
Social media-based roles are popular in Indiana and North Carolina, those in Mississippi and Wisconsin who want to be SEO specialists, the population of New York and Tennessee are always on the lookout for roles in public relations, and Massachusetts and North Dakota love graphic designers.
Minnesota and Kansas stand out from the crowd, however, being the only states to desire PPC specialist and project management positions, while jobs as a data analyst are eagerly sought out in Idaho, Louisiana, and Virginia.
Last, but by no means least, California, New Mexico and South Carolina are all about cloud computing; people in Georgia and Montana desperately want to be copywriters, New Jersey and Oregon are huge fans of CRM, and those in Arkansas, Nebraska, and South Dakota are razor-focused on AI.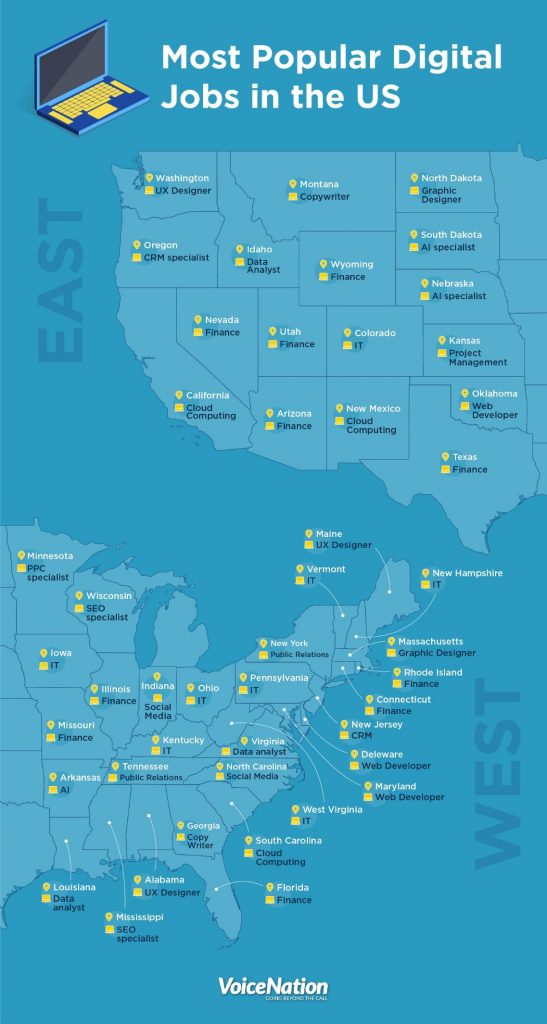 The most popular digital roles in Europe by country
So, how do the people of Europe compare to their US counterparts when it comes to popular digital jobs?
It seems that the Germans, Polish and Irish share a lot in common with those in Kansas, seeking out project management roles wherever they can, while France, the Netherlands, Austria and the UK are all about becoming SEO specialists.
Italy, Greece and Norway all aspire to be involved in social media, while those in Croatia, Albania and Estonia's digital industries have a keen interest in web development.
Employees in Slovenia and Iceland favor PPC, and those in the Czech Republic are the only European population who seek out graphic designer roles – though Bosnians do keep an eye out for more generic designer jobs.
Copywriter roles prove to be more popular in Europe than in the US, but only just, with job seekers in Romania, Bulgaria and Cyprus all eager to get typing. Though it seems people in Sweden and Luxemburg favor AI engineering over the AI specialist positions found in the US.
As for other European countries, Belarus and Finland have a focus on cloud computing, Spain and Portugal desire forward-facing customer service jobs, and Belgium, Hungary, Switzerland, and Denmark are all about landing positions in IT.
Interestingly, not a single European country we looked into picked finance as their favored digital role.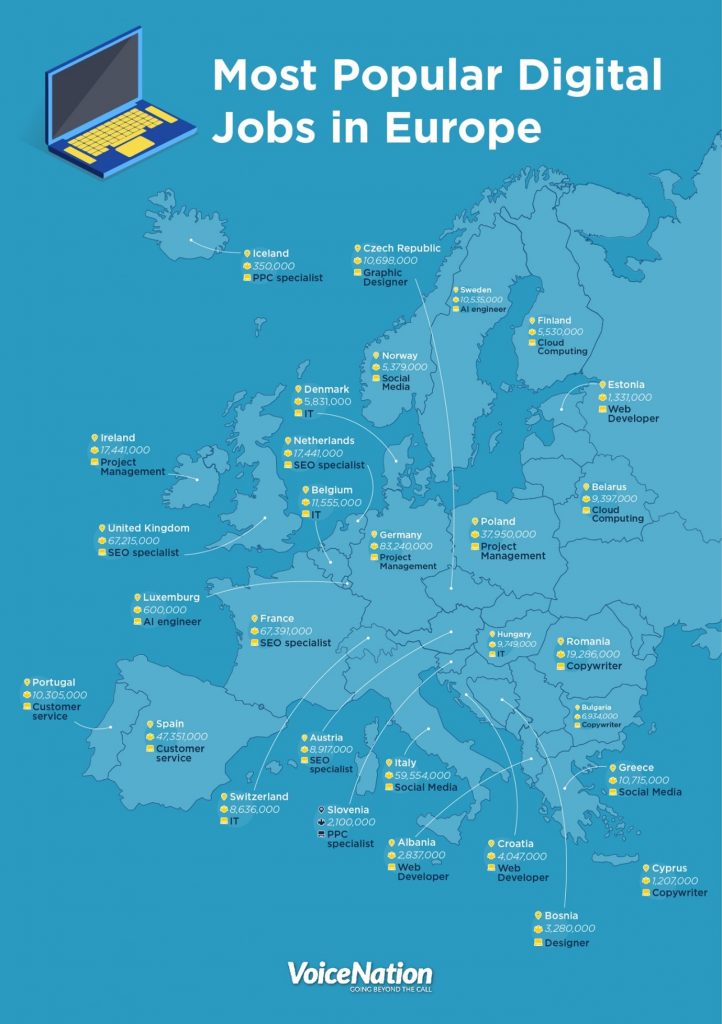 It seems every aspect of the digital industry continues to be popular across the US and Europe, and maybe that's because of the sheer variety of opportunities on offer to those who want to be involved in the digital world. It certainly means you'll never be bored no matter your role!
Of course, if you're in any digital role that works with client calls, then you'll know the frustrations of frequent distractions and excessive overhead. Good phone handling skills are a must for customer service and stress-free work life. But don't worry; VoiceNation's answering service is here to help!
With professional virtual receptionists and a 24/7 service, you can be sure every call will be handled with expert skill no matter the time of day. Get in touch today to see how our team can help or head over to our blog for more insightful pieces like this one.